Bioinformatics Tools & Resources
This page lists a limited selection of tools & data resources by members of the compbiozurich community. Please add yours or encourage resource owners to do so.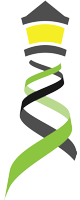 The Beacon protocol defines an open standard for genomics data discovery, developed by members of the Global Alliance for Genomics & Health. Since 2016, the Beacon protocols is being developed through the ELIXIR Beacon project as a GA4GH driver project.
Contact Details
---

The Progenetix database is the largest repository for annotated copy number profiling data in cancer. The website also tracks & analyses cancer genome profiling publications for provenance & content.
Domain Name: progenetix.net
Creation Date: 2000-11-29T18:17:38.000Z

Contact Details
---

STRING aims to collect and present all known and predicted protein-protein interactions, covering several hundred organisms. The interactions include direct (physical) and indirect (functional) associations.
Contact Details
---