Bioinformatics Tools & Resources
This page lists a limited selection of tools & data resources by members of the compbiozurich community. Please add yours or encourage resource owners to do so.
Beacon - Discovery Services for Genomic Data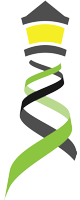 The Beacon protocol defines an open standard for genomics data discovery, developed by members of the Global Alliance for Genomics & Health. Since 2016, the Beacon protocols is being developed through the ELIXIR Beacon project as a GA4GH driver project.
Continue reading